I don't suppose it's difficult to figure out how we like cats! You can find them on almost every Lingvistov doodle. We have even created a post with illustrations dedicated to "The Main Reasons to Have a Cat" - like you need a reason, am I right or am I right? They are cute and cuddly. But at the same time they are independent and have inimitable dignity. Perfect material for a drawing, an illustration and even a painting!
Illustrators and artists throughout the centuries have been drawing cats. Lingvistov doodle cats are different. And if you want to learn how to draw a cat the way I do it, here are some tips and tutorials.
Do you want to make a greeting card for a special person? And you want to draw it yourself? Are you planning to make a birthday present and you think that nothing can be better than your framed drawing of a cat (you are right, by the way)? Then look no further! You can just draw it for pleasure! It has been proven that drawing and painting relax you and elevate your mood. So turn on some Enya and get to work!
What you need:
1. I usually use liners and always have 0.05, 0.1, 0.2 and 0.7.
2. Paper. Any paper you want. Start with something simple. But if you're making a present, a thicker watercolor paper would be awesome. But make a trial drawing first... just to see how it looks.
3. For coloring you can use watercolors - this would be my choice.
If you want to make a colored drawing, you should do it in the following order:
1. Pencil draft (barely seen)
2. Watercolor
3. Liner
And your drawing gift will look better if you make the outlines thicker than the lines inside.

Cat illustration #1

Cat illustration #2

Cat illustration #3

Good luck!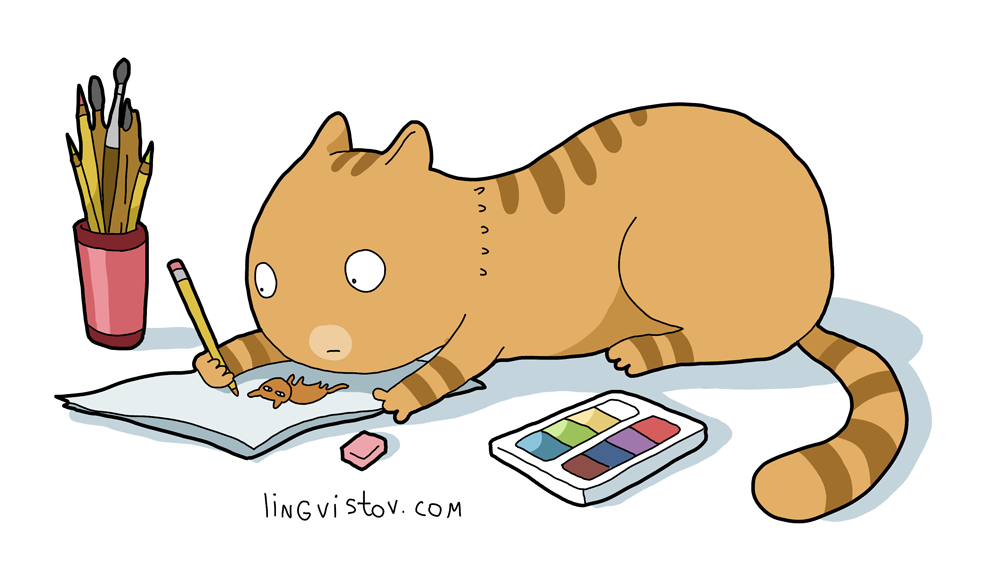 Note: These illustrations are protected by copyright. Lingvistov doesn't allow to use them without the link and the written consent of the artist. It's forbidden to print, sell and use them for any marketing or promotional purposes.